Starved Rock State Park is located in central Illinois around 2 hours south of Chicago. While most of Illinois is flat and covered in farmland, Starved Rock is a land of beautiful waterfalls, canyons, and hills. This state park contains 13 miles of trails that all connect.
Keep reading to find out more about beautiful Starved Rock and the best trails at Starved Rock state park. Most hikes can be done in a couple of hours and the park is great for a day trip.
Summer and autumn are the most popular times to hike here. Winter is much less crowded but offers picturesque views of the frozen waterfalls. This State Park is one of the largest hiking attractions in Illinois and as such the trails can get busy. Even so, the views are worth it and you can wake up early to avoid the crowds.
Why Hike at Starved Rock?
This place is not only a fun and beautiful hiking destination but is also an integral part of Illinois history. Back when the land was owned by Native Americans, two tribes called the Ottawa and Illini lived in the area. When a member of the Illini tribe killed Chief Pontiac of the Ottawa tribe, a great battle started and the remaining Illini fled to Starved Rock where they died of starvation.
Today, you can learn more about Illinois' Native American history in the visitor's center and even hike up to Starved Rock itself. From there you can get great views of the Illinois River and possibly spot some of the local bald eagles.
One of the biggest reasons why Starved Rock is such a beloved hiking destination is because of the canyons and waterfalls. There are 10 canyons in the park that have waterfalls. Although the trails can get muddy, the best time to visit see the falls is right after it rains.
Even if you visit during late summer when the waterfalls are just a trickle, the canyons themselves are worth the trip. Their large size and rippled walls make for great photographs, especially when decorated with wildflowers and surrounded by forests. All hikes here range from easy to moderate and follow well-marked and maintained trails.
Besides hiking, at this State Park visitors can also camp, boat, fish, birdwatch, ice climb, and cross country ski in the winter.
 10 Best Trails At Starved Rock
1. Ottawa Canyon
Ottawa Canyon is our favorite hike at this place because it has one of the widest and most beautiful waterfalls. This canyon is also further away from the visitor center and main parking lot making it less crowded.
The trail is around 3.9 miles from the visitor's center. Or if you want to shorten it, you can park in a closer lot for a 1-mile hike. While Ottawa may not have as much rushing water as other falls, it has the widest waterfall and you can walk behind it to get an up-close view.
2. Saint Louis Canyon
The hike to Saint Louis Canyon from the visitor's center is an easy 1.5 miles. Most locals who hike here will say that Saint Louis Canyon is the best. The waterfall here is the only one in the park that's spring-fed and safe for swimming. So bring your kids and friends and cool off in the water!
On the way to Saint Louis Canyon, you can also stop at other well-known beautiful spots like Sac and Kickapoo canyons. Saint Louis Canyon suffered a partial collapse in 2004 and a large pile of boulders can still be seen near the falls.
3. Wildcat Canyon
Wildcat Canyon is probably one of the busier spots here. It also sports the tallest waterfall at 70 feet. This is the deepest canyon in the park and you can explore it on the ground through the interior trail or from above on one of the two overlooks.
The waterfall here rushes in spring after the snow melts and can sometimes dry up in summer. Wildcat Canyon can also be easily visited alongside other nearby popular canyons like French and Lasalle.
4. Starved Rock and Sandstone Point Overlook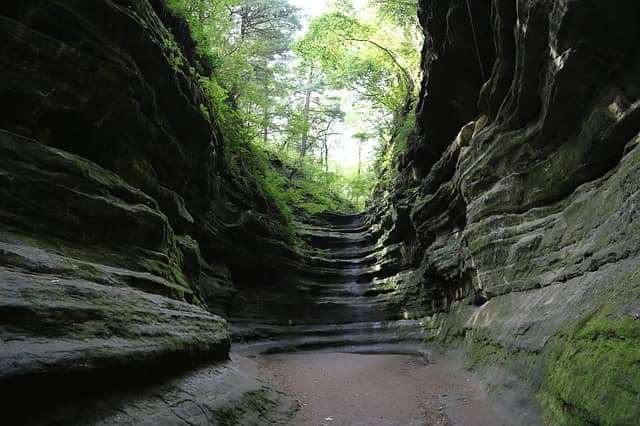 When visiting the park for the first time, it's important to check out the main attraction: the rock that gave Starved Rock its name. The trail from the visitors center to Starved Rock and then on to Sandstone Point is a moderate 4.3-mile hike that includes slight elevation and a path built of wooden walkways and stairs.
This hike is one of the most popular in the park and can be crowded but the views of the river valley from the rock are unbeatable. It's also a popular place to go to spot bald eagles in January and February. It only takes around 15 minutes of walking to reach Starved Rock which is why we recommend adding Sandstone Point Overlook to your journey.
5. French Canyon
French Canyon is one of the closest destinations to the visitor's center and is a moderate 2.5-mile journey. Because of its short distance, this hike is great for families with kids. It also has the reward of a waterfall that you can walk behind at the end.
French Canyon is a must-see spot in this park and has the most-photographed waterfall. Here you can choose to climb the stairs to get a bird's eye view of the canyon or venture into the canyon. The hike into the canyon can be wet and slippery.
6. Lasalle Canyon
Lasalle Canyon is around a 30-minute walk from Wildcat and is one of the furthest from the visitor's center. However, this 4.4-mile moderate hike is worth it if you want great views of the Illinois River and Lasalle, one of the highest walled canyons in the park. Lasalle is also one of the few canyons that have a waterfall all year round, although small in the summer.
If you want to make the hike shorter, instead of starting at the visitor's center you can start at the parking lot on Route 71. From here the journey is only 2.6 miles roundtrip. On this route, hikers will be treated to a narrow trail that follows the cliffside along the cavern's tall sandstone walls.
This is also a popular winter destination and a great spot for ice climbing.
7. Lover's Leap Overlook
Lover's Leap Overlook is a 1.7-mile moderate hike that has a beautiful view and a sad story. According to legend, the present-day viewing platform of the overlook was built on the location where two young Native Americans from separate tribes took their own lives in protest of their forbidden love.
This trail is rated as moderate because it is a bit of a climb and involves many steep stairs and some dirt trails. From the overlook, guests can get sweeping views of the river and may have the chance to spot eagles who build their nests on the islands below.
8. River Trail, Bluff Trail, and Illinois Canyon
If you are looking to get in a longer hike and some more exercise, consider taking the River Trail, Bluff Trail, and Illinois Canyon loop. Together, these three trails make for a moderate 6.8-mile hike where you will get close-up views of the Illinois River, the canyon bluffs, and a waterfall.
Both River Trail and Bluff Trail are the two primary pathways through the park and are the starting points for most other trails.
From these two, you can choose to branch off to many canyons, but Illinois is a good option because it is less developed and follows a dirt and stone natural trail. This also means that if the waterfall is high, you'll likely get your feet wet.
9. Eagle Cliff Overlook
The journey to Eagle Cliff Overlook is a 3-mile moderate hike across wooden walkways and up manmade stairs. This is one of the most popular outlooks in the park for its views and can get crowded so it's best to arrive early.
One of our favorite aspects of this hike is that it can easily be added to a trip to Wildcat Canyon and Lover's Leap Overlook.
10. Tonty Canyon
Tonty Canyon is on this list because it is not well known and is a bit of a hidden gem. To reach Tonty, you'll have to first hike to Lasalle Canyon and then follow the trail that run's behind Lasalle's main waterfall.
Tonty Canyon is short but is a great spot for photographers who want to capture cascading water as it flows over the sandstone. After a heavy rain, Tonty is also rumored to have a double waterfall.
Conclusion: What You Need to Know
Although some trails can get busy, this State Park is one of the best places to go in the Midwest for beautiful waterfall and canyon trails. With 13 miles of interconnected paths, at Starved Rock you can create your own hike that goes where you want and lasts for as long as you want. Some of the best canyons with waterfalls include Wildcat, Ottawa, and Saint Louis. You can get the best river views from Starved Rock, Lover's Leap Overlook, and Eagle Cliff Overlook.
Trails can get muddy so make sure to wear good shoes and bring a change of clothes!
The BEST Hiking at Starved Rock State Park in Illinois: Video
Frequently Asked Questions
1. What trail is the waterfall on at Starved Rock?
There are around 10 canyons in Starved Rock with waterfalls. Some of the most famous canyons include French, Lasalle, Ottawa, Wildcat, Saint Louis, and Illinois.
2. How long is the hike at Starved Rock?
There are many hikes available at Starved Rock ranging from a quick 15-minute hike to the rock itself or a couple hours hike to some of the best canyons. The entire park contains 13 miles of trails but most hikes are around 2-3 miles.
3. Are there bike trails at Starved Rock?
There are no bike trails at Starved Rock but you can bike on the roads surrounding the park. Nearby Matthiessen State Park does have some bike trails.
4. What should I bring to Starved Rock?
Make sure to bring everything you'll need for a safe hike including sunblock, bug spray, hiking shoes, water, and snacks. You may also want a change of clothes and shoes because some of the trails get muddy, especially in the canyons and near the river.
5. Has anyone died at Starved Rock?
As recently as 2020, there have been hikers that have died at Starved Rock State Park. These tragedies usually occur during falls from canyon overlooks when hikers step over the guardrails. Always be sure to follow all instructions and stay on the marked paths to stay safe while hiking in Starved Rock.
6. Can you swim in the waterfalls at Starved Rock?
Swimming and wading in the waterfalls at Starved Rock are not allowed for the safety of visitors. Most of the waterfalls in the park contain farm runoff which can be dangerous. The only waterfall in the park that is spring-fed is at Saint Louis Canyon.
7. Is Starved Rock open during a stay at home?
Might be a good time to explore the park during a stay at home. There are trails that will keep visitors entertained whatever the weather. Take advantage of the outdoor pleasures by exploring Starved Rock State Park
While in the park, visitors are expected to follow all CDC guidelines including mask-wearing and social distancing.
8. How many waterfalls are in Starved Rock?
There are many waterfalls in the park with 10 canyons that contain major falls and many smaller falls along the way.
9. Where is the big waterfall at Starved Rock?
The tallest waterfall in this park is in Wildcat Canyon while Ottawa Canyon has the widest. If you want to see impressive falls, visit in the spring after the snow has melted. This is when the falls are at their grandest. Many of the falls dry up in late summer and will only have a good water flow after heavy rain.
10. Is Starved Rock dog friendly?
This is a dog-friendly park and you will see many other pups on the trails while you are there! Your dog must be leashed at all times and you must clean up after them and provide them with plenty of drinking water. Dogs are not allowed to drink from the streams and fall in the park as the water might be dangerous to consume.