The history between dogs and human goes far back. With terms like "man's best friend," it's not surprising then that dogs can often feel like a close family members.
When I go hiking, I always look for dog-friendly trails so I can take my two pups with me.
There are so many reasons why we love hiking with our dogs. First, if you are a solo hiker, it's nice to have another hiking companion with you. Second, dog parents love to see their dogs having fun! There is nothing better than tongues out and a wagging tail on the trail. Lastly, if your dog likes attention from other humans, many hikers will stop you on the trail and ask if they can say hi.
Image Source: pexels.com
Do Dogs Need Hiking Gear?
When deciding what hiking gear to get your dog, it is important to understand their needs, the hike you are taking them on, and how to best protect them.
Protecting Their Paws
One of the most important parts of hiking with your dog is protecting its paws. Dogs' paws may not be conditioned to sharp rocks, especially if they spend a majority of their time indoors.
As a result, if you go on a long hike where the trail is a bit rough, your dog can come back with scratches on its paws.
To protect their paws, invest in some dog boots like the Grip Tex from Ruffwear. These rugged boots will help keep your dog's paws safe.
Another option is to coat your dog's paws with wax before a hike. This will help prevent scratching or tearing their paws. Musher's Secret is a popular brand that uses 100% natural waxes. Think of it as a thin layer of protection against the elements.
Keeping Them Hydrated
Hydration is another key factor when hiking with your dog. Although we drink from water bottles, dogs have a tough time drinking from them.
This is why you need to bring a dog bowl when you go hiking with your dog. Your typical dog bowl may be too heavy to bring along though.
Instead, look for dog bowls that are a lighter material and can fold into your hiking backpack.
Collapsible bowls are great because they can fold into a much smaller footprint – almost the size of your hands. The Prima Pets Collapsible Travel Bowl is a great option. It is made with silicone which also makes it easy to clean. The downside of silicone is that it can rip a little more easily, especially if you are placing the bowl on sharp rocks and rough surfaces.
For something more durable but is also still portable, try the Outward Hound Port-A-Bowl Pet Bowl. This bowl is made with nylon material to help with durability.
Finally, the Filson Dog Bowl is perfect for more fashion-forward dogs. This bowl is also made of nylon but is on the pricier end at $40. Although the Filson Dog Bowl is a little more expensive, you can't deny that it looks great!
Keeping Them Safe
Image Source: pexels.com
If it is a hotter day, you may also want to think about a cooling vest for your dog. These cooling vests help them lower their body temperature and cool down. This is especially important if it is a hotter day. Try the Hurtta Cooling Vest which comes in all sizes.
Another thing that is different about hiking is that you will want to make sure you can see your dog at all times. A reflective and/or bright-colored dog collar will help here. The reflective strips on the dog collar will help you see them even if there is not as much daylight.
If your dog is prone to being an escape artist, you may even want to think about a dog GPS. Technology has come a very long way in the past few years, and the dog GPS options offer great value and peace of mind. The Whistle Go Explore is a great option.
Hiking Accessories for Your Dog
You may also want to invest in hiking accessories for your dog to make the hike a little more comfortable for both yourself and your dog.
First, your normal leash may be annoying on the trail when you want to use your hands. Instead, opt for a hands-free leash that ties around your waist. Tuff Mutt makes a great hands-free leash that also has a bungee leash to help absorb some shock while on the trails.
You may also want your dog to help carry their gear while on the trails. You will need a comfortable hiking backpack like the Ruffwear Approach Dog Pack. When buying a dog backpack, make sure it fits well and the straps are pulled in comfortably to prevent chafing.
Top 5 Dog-Friendly Trails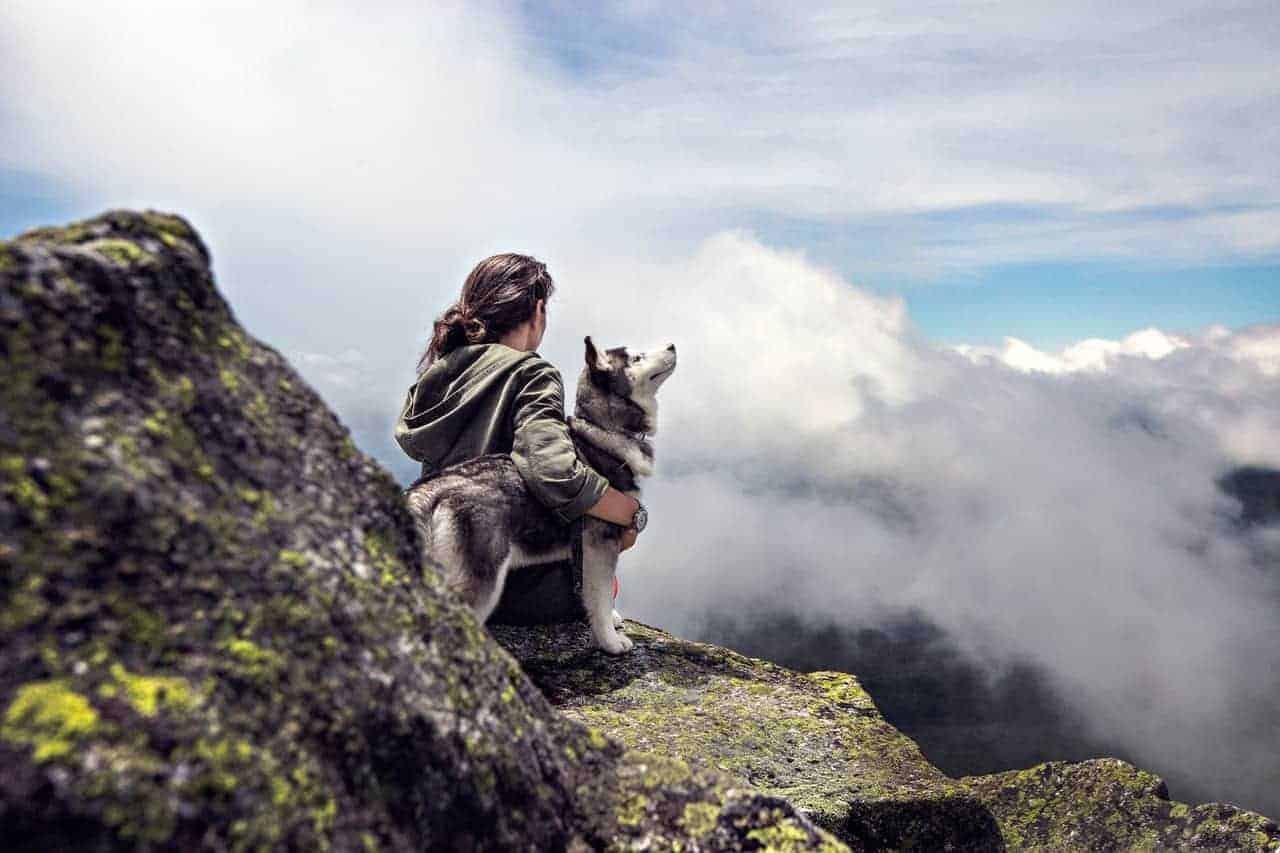 Image Source: pexels.com
Now that you know what hiking gear your dog needs, head out to some of the best dog-friendly hiking trails!
There are many state parks and local spots that allow dogs – some National Parks will as well. Dog-friendly towns like Boulder, Colorado even have more relaxed leash laws under their Voice and Sight Control Tag program.
Here are the Top 5 dog-friendly trails in the US.
1. Lost Lake via Hessie Trailhead, Colorado
Hessie Trailhead is one of the most popular trailheads in Boulder. Shuttle services provide visitors a link between the parking lot and the trailhead. Dogs are welcomed on the shuttle!
Lost Lake is a 4-mile trail that is perfect for a day trip. Your dogs will also love splashing around in the water.
2. White Domes Trail at Valley of Fire, Nevada
If you are near Las Vegas, don't forget to stop by Valley of Fire State Park. Your dog will love walking around the red rocks and sand.
The White Domes Trail will take you around to unique sandstone formations. It can get very hot in the summer so be sure to bring plenty of water.
3. Alkali Flat Trail at White Sands National Park, New Mexico
As a general rule of thumb, most National Parks do not allow dogs on the park trails. They may be allowed in campgrounds and paved roads, but hiking trails are usually off-limits.
This is what makes White Sands National Park so great. The entire park is dog-friendly! Plus, the sand here is gypsum sand which means it doesn't heat up as much as normal sand and you won't have to worry about your dog's paws.
4. Heart Lake Trail at Mount Shasta, California
Mount Shasta is a hidden gem destination if you aren't from the area, but if you are native to Northern California, you know how beautiful the entire area is. Best of all, you can bring your dog on many trails.
Dogs and humans alike will love hiking on Heart Lake Trail. You will be rewarded at the top with views of Mount Shasta.
5. Mount Osceola in the White Mountains, New Hampshire
Mount Osceola is one of the 48 "4000 Footers" in New Hampshire. Situated in the White Mountains, Mount Osceola is a classic New England hike. There are 360 views at the top of the surrounding area.
Melissa from The Modern Female Hiker